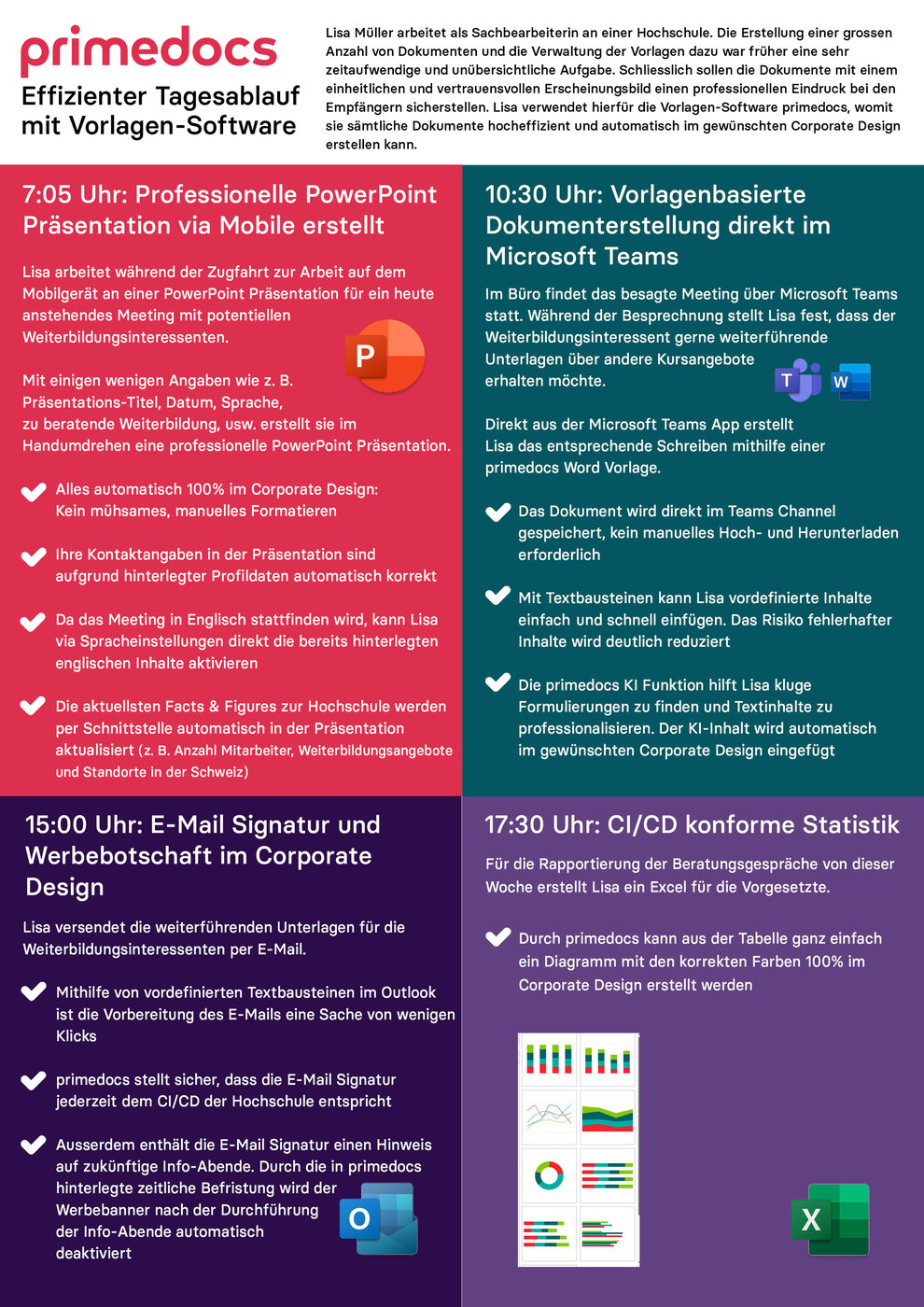 Lisa Müller works as a student office assistant. It used to take a lot of time and effort to manage templates and create documents.

After all, the documents should ensure a professional impression on the recipients with a uniform and trustworthy appearance. Lisa uses the template software primedocs for this purpose, which allows her to create all documents highly efficiently and automatically in the desired corporate design.
7:05 a.m. Professional PowerPoint presentation created via mobile
Lisa is working on a PowerPoint presentation on her mobile device while on the train ride to work for a meeting with potential people interested in further education today.
With a few details such as presentation title, date, language, training to be advised, etc., she creates a professional PowerPoint presentation in no time at all.
Everything automatically 100% in the corporate design: No tedious, manual formatting.
Your contact details in the presentation are automatically correct due to stored profile data.
Since the meeting will be held in English, Lisa can directly activate the already stored English content via language settings.
The current facts and figures about the university are automatically updated in the presentation via an interface (e.g. number of employees, continuing education opportunities and locations in Switzerland).
10:30 a.m. Template-based document creation directly in Microsoft Teams
Back to the office, the meeting takes place via Microsoft Teams. During the meeting, Lisa notes that the person interested in further training would like to receive more information about other course offerings.
Directly in the Microsoft Teams app, Lisa creates the corresponding letter using a primedocs Word template.
The document is saved directly in the Teams Channel, no manual uploading and downloading required
With text modules, Lisa can insert predefined content quickly and easily. The risk of erroneous content is significantly reduced
Lisa benefits from the primedocs AI function's assistance in coming up with unique sentences and revising text. The ideal corporate design is immediately updated with the AI content.
3:00 p.m. E-mail signature and advertising message in corporate design
Lisa sends the further documents for those interested in further training by e-mail.
With the help of predefined text modules in Outlook, the preparation of the e-mail is a matter of a few clicks.
primedocs ensures that the e-mail signature corresponds to the CI/CD of the university at all times.
In addition, the e-mail signature contains a reference to future information evenings. Due to the time limit stored in primedocs, the advertising banner is automatically deactivated after the information evenings have been held.
5:30 p.m. CI/CD compliant statistics
For the report of this week's consultations, Lisa creates an Excel for her superior.
With primedocs, a diagram with the correct colors 100% in the corporate design can be easily created from the table.